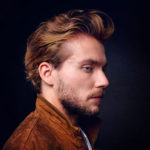 MEMBRU CREATIV
Pascalau Liviu
Tara: Romania
Scurta descriere:
After 8 years of work in digital art and multimedia design, from drawings and sketches to 3D modelling and animation, the art of photography has become one of my favorite passions. The digitization of visual arts has influenced a lot my perspective on photography. Thus, many of my works, with the help of modern techniques, light and beauty, come to life in some of the smallest details. The artworks disperse over multiple styles and areas of photography, from conceptual and minimalist to travel and product photography.
Multimedia designer and currently working as Executive video producer & Team Manager at Azets.
Activitate foto:
The year of 2016 represented the moment of my debut on the international photography stage, along with the 5th edition of Arad's International Salon of Photography, Romania. The years that followed have brought more than 560 acceptances, with 62 international awards under patronages of the highest rank.
2019: 70 International Salons with 332 acceptances, 29 awards including 12 medals;
2018: 37 International Salons with 229 acceptances, 33 awards including 13 medals;
Works in 50 countries: Nepal, Moldova, Greece, United Arab Emirates, USA, Serbia, Georgia, Belarus, South Africa, Poland, Sweden, Norway, Denmark, Finland, New Zealand, Romania, Sri Lanka, Russia, Montenegro, Singapore, India, Croatia, Argentina, Chile, Italy, Czech Republic, Spain, Belgium, Luxembourg, France, United Kingdom, Bangladesh, Belarus, Bulgaria, Ukraine, Lithuania, Macedonia, Azerbaijan, Slovakia, Slovenia, Albania, Israel, Austria, Bosnia and Herzegovina, Croatia, Australia, Portugal, Canada, Tanzania, Turkey
Distinctii/Premii:
– Awards:
Gold medals: 13 (FIAP, PSA, ICS, MoL, GAP, SRAF, Clubs,)
Silver medals: 5 (MoL, ICS, AAFR, Clubs.)
Bronze medals: 2 (FIAP, Clubs)
Honorable Mentions: 36
(FIAP, PSA, MoL, GPU, ICS, NFFF, GAP, AAFR, SRAF, Clubs)
Special prizes:
Numismatic Award Russia 2019; Judge's Choice in Salon Riedsheim Creativity Contest 2019; Diamanti Gran Prix JewelsPhoto Circuit 2019; Gold Gaucho – 53º Salon
Internacional Peña Rosarina; Vision Silver Medal The Best Potrait – 2nd International Digital Vision Exhibition 2018
PhotoClub of the Year in Romania (within FotoClubPro Arad)
– Distinctions:
Competitive Master of Light (cMoL), Best Youth Image Colleague Society (BY.ICS), Honorary Fellowship of Sigma Academy of Photography (Hon.FSAP), Honorary Fellowship of FotoClubPro Arad (Hon.FCPA), member of Association of Romanian Photographers (AAFR).
Contact:
E-mail: liviu.pascalau@gmail.com