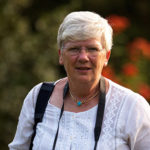 MEMBRU CREATIV
Aubry Francine
Tara: France
Scurta descriere:I am a travel photographer and president of a humanitarian and cultural association.
My initial profession was a primary teacher.
I am married and we have 3 children and 9 small children
I have been to Romania since 1990 where we have been doing actions for street children, we bought a house to host them in Iasi. This house still exists, but we have withdrawn, it is managed by the Patriarchate of Moldova Bucovina, we have worked with Monsignor Daniel.
We gave micro credits at the rate of 0%.
Activitate foto:
I am passionate about photography since my youth, my father initiated me with a 6X6 camera.
During my humanitarian or tourist missions, I can not do without my camera and I travel the country roads in search of encounters, in order to share and know other cultures;
I am very curious and always with the desire to discover, despite my advanced age!
Distinctii/Premii:
Diploma of the Ministry of Education (teacher)
Graduated from the Conservatory of Music, piano section.
Graduated from the Ministry of Culture of Yakutia, (writer, photography)
Self made photographer and watercolorist
Contact:
E-mail: aubry_francine@yahoo.fr